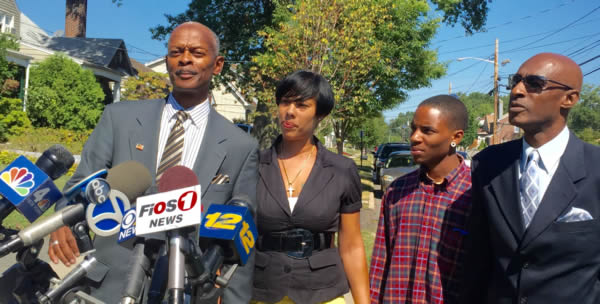 My group National United Youth Council Inc backed the family of young man of the Linden football team because we believe his story and oppose the lynching campaign.
Our facts:
I viewed that video of the helmet incident over 20 times and found a logical explanation.
When those two lines men on opposite side decided one going to have the advantage that's what happen.
Immaculata football player appeared on film lunging his helmet when you freeze frame Linden linesmen hand is on side of helmet while being pushed back.
As you see the video the helmet comes off and his arm swings as he tossing helmet in frustration and clips his opponent head.
The player through his hand up looking for a penalty flag against linden player.
The four officials converse and decided to hit him with a unsportsmanlike like call and a15
yard penalty .
He was not ejected from the game because Refs didn't feel it was not that serious because the hit player didn't act as if he was seriously injured. According their statements.
The overblown aftermath:
Immaculata Coach and others launched a effort to get this boy suspended from school, kicked off the team, and thrown in Jail.
So far they been successful.
They used political pressure through YouTube, and social media and the Press to make this thing beyond the sport itself. They been successful so far.
The National United Youth Council Inc response is to not make this incident into a Lynch mob effort to destroy this kid life.
We NUYC do not condone any form of violence on or off the field of play. However we support fairness, reconciliation, and the opportunity to forgive. That have not happen yet…
We will take even a more higher road on this issue in school sports and demand fair and equal treatment across the board. Not when it benefits a select elite group.
I pray for both of these young men that they can get a more humbling and learning experience that benefits them both.
Salaam Ismiall Director National United Youth Council Inc.
NJ News conference of football incident